"I WANT TOSUVIVE, HUG MY FAMILY, AND WORK TO REBUILD MY COUNTRY," MIM ALUM AND VOLUNTEERING SERVICEMAN SAYS
"Although we were preparing for the war, we hoped that there would be none," Hryhoriy Andrushko, MIM-Kyiv alum says. Until February 24, he was Head of Technologies at the Innovations department at the Security Holding. Now, Hryhoriy fights in Mykolaivska region. When shortly in Kyiv, he told about his broken plans, city defense, and his post-war ambitions.
- The day before the war we went to our countryside home in Lytvynivka. It was occupied. While Ukrainian mobile communications were still working, I gave information about the enemy's movements, numbers, etc. to our Army. Then, the bridges in Demydiv and Stoyanka were blown up and we stayed occupied and isolated. We were told to stay with families and not leave houses. We managed to leave on March 8. After March 9 I was helped to move my family abroad. I am very grateful to all those who helped me. After March 29, I joined the Army. Since early April, my unit is deployed in Mykolaiv.
- What did you do before the war?
- I had many plans. For many years I had been the CEO of the research firm belonging to the VenBest security holding. In 2008, I studied in the corporate program at MIM-Kyiv. Later on, I understood that I needed marketing knowledge and took a pre-MBA Marketing program. Last September I joined the Security Holding. I was in charge of security gadgets development.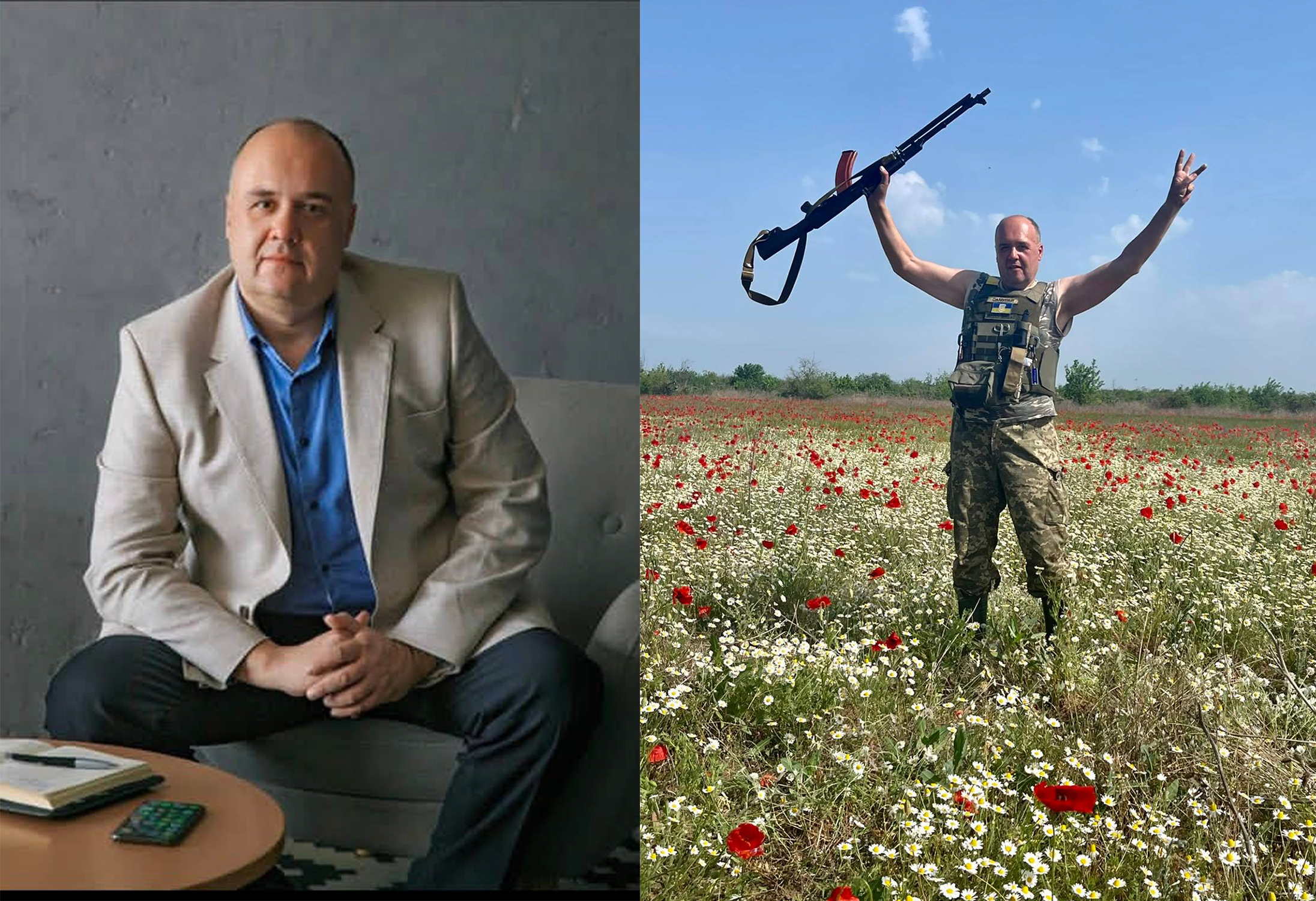 - What were your plans before the war erupted? Did you have any gut feeling about it?
- I did have that feeling but could not believe it. My mother is Russian, my grandfather worked together with Mikoyan, a well-known Soviet functionary. I couldn't believe it might happen. However, I prepared for the emergency. We brought a lot of food to our country home. We planned to go on vacation with my family. But it didn't happen as expected. At first, russians cut off electricity, then communication. Then they moved through our village. We did not have enough bread.
- What are your memories of the occupation?
- When I had a time off, I came to the village to take my car. I left it and we were walking out of the village. We were crossing the broken bridge. I thanked all people for helping us with food even. I tried to buy as many gifts for them as I could. We had a lot of shelling in the early days because we are close to Hostomel. Russians were firing from the neighboring village Katuzhanka. Compared to other places, our Lytvynivka did not suffer much.
- Who do you serve with?
- I am lucky to serve with the cream of the crop. There are many business people. Many served in 2014. At first, we were volunteers but then joined the Armed Forces. At first, we were defending Kyiv, then were relocated to Mykolaiv.
- What is Mykolaiv like?
- We are grateful to volunteers. People used to have different opinions, but not anymore. There are serious problems with drinking water.
- Do you think the war is changing the country? What are you dreaming about after the war?
- Wars change people and show the core. People value relations over money now. Kyiv and Mykolaiv are different. People are more attentive to their military close to the contact line. I'd recommend people in places far from military action not forget about the war. I want to survive, come back home, hug my family and work for a free and prosperous Ukraine.