MIM-KYIV'S NEW GENERATION OF MBAs  
39 MBA and SE MBA classes were awarded their diplomas at the convocation held in December.
Mr. Vitalii Haiduk, MIM-Kyiv's chairman of the board gave his prize to the authors of the best masters' thesis. This year Victoria Vasilieva, the head of operations for the GRC Ukraine (KFC operator) was a shortlister for her project on the improvement of the quality management system in the restaurant business at her company. Pavlo Kushniruck, senior manager of the Reform Support Office won the Grand Prix for his project on the financing of public-private partnership projects in the road transportation industry. Mr. Haiduk explained that the project was his absolute favorite:
- When I was reading Victoria's paper I thought it was the best. When I started reading Pavlo's paper I was sure that he had plagiarized. I thoroughly checked everything including the references. I was so much impressed by what Pavlo did and how many various information resources he used. I believe that his paper is not only a good MBA paper but could be used by governments as well.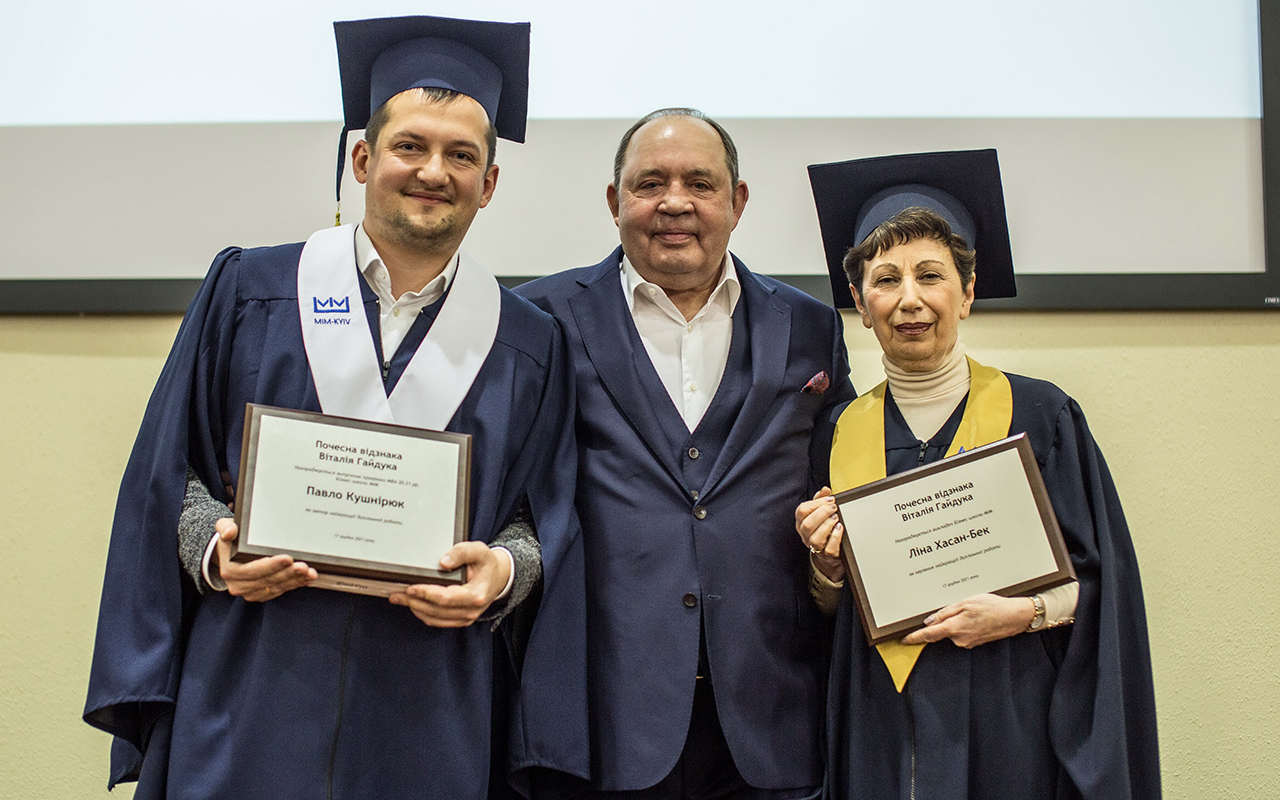 Pavlo Kushniruck said when receiving the award:
- I am proud to win the prize. You are right: I did not write the paper on my own. Lina Khasan-Bek, my supervisor helped me a lot. I am from the public sector. I believe that MIM-Kyiv does a great thing by admitting public sector managers to its programs. Due to the studies at MIM-Kyiv I and my colleagues see the business community from a different perspective. As a result, the public and private sectors and civil society join forces to make our lives better.
Iryna Tykhomyrova mentioned in her welcome that it was the first class who had to cope with the challenges of the new normal caused by the pandemic. She said:
- Our adaptation experience is at par with European or American. You faced difficulties, but I hope we are off for the better. The World Bank forecasts that the economy will recover. Your timing is excellent: you studied in crisis to grab all opportunities of the growing economy.
The ceremony ended up in throwing up the bonnets and group pictures.