THE NEW PRE-MBA CLASS KICKED OFF
On October 30, the class of 2020 – 2021 started its program. Prof. Iryna Tykhomyrova, the president of MIM-Kyiv, welcomed new MIM-Kyiv's students of the Pre-MBA Business program.
In her address, she talked about MIM-Kyiv's history. She drew attention to MIM-Kyiv's technology savviness that matches or even exceeds the needs of the business community. Prof. Tykhomyrova said: "Due to your studies you'll see everything with new eyes. You'll be mastering the most up-to-date management knowledge and skills."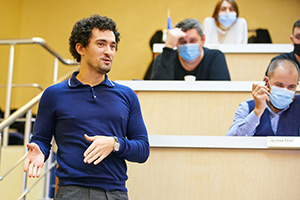 The new students got acquainted and shared their expectations. Dmytro Andreyev, a founder of the boutique MOON Studio Creative Agency, explained his reasons for coming to MIM-Kyiv: "I want to make my Agency the most powerful in Ukraine. But I don't have any experience of working in large companies. I need to learn how they function and run. In MIM-Kyiv, I hope to grasp how business processes are structured and managed."
It will take nine months to complete the program. The real-life business plan drafted as a mandatory part of the program is one of the most valuable outcomes of the program.
The newest long-distance tools were used from day 1. Oleksiy Vynogradov, MIM-Kyiv's Vice President and marketing professor, delivered his Marketing Management class via ZOOM. Needless to say that MIM-Kyiv follows all sanitary requirements such as social distancing, temperature screening, masks, etc.