Marketing and Post-Pandemic Survival Guide by the Private Hospital
The Case of the "Clinica Vykhidnoho Dna"
10 April 2020
Last week, 19 private hospitals except for the Clinica Vykhidnoho Dna [Weekend Clinic] closed because of the pandemic related lockdown. However, the number of patients reduced by 18%.
At this February Marketing Café meeting, Mr. Serhii Snehirov, Marketing Director for the Clinica Vykhidnoho Dna and MIM-Kyiv graduate discussed medical marketing. At that meeting, he spoke about how deeply marketing directors should be involved in businesses' operations and strategies and why the share of profit is the best incentive for marketing directors. During the inline meeting in April, Serhii talked about the survival in the period when people are scared and are avoiding hospitals and to what extend online format may apply to the situation.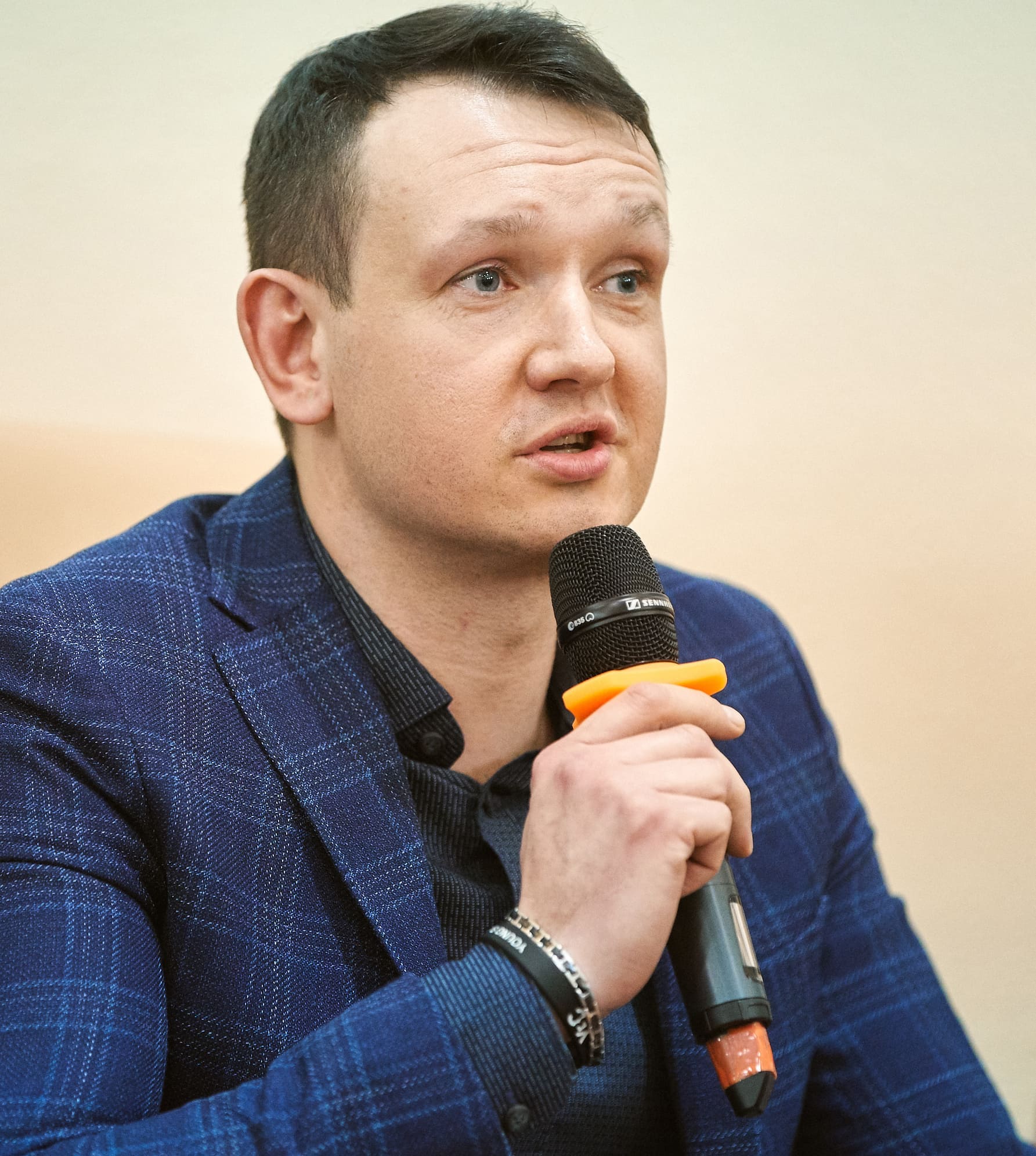 Serhii Snehirov in his own words
Private hospitals' business development is my expertise. Clinica Vykhidnoho Dna is my 7th project. Previously I worked as a marketing director for Medikom, the first Ukrainian private hospital. Once when we discussed things with one of the founders, I told him that I had an idea. He answered that it was he for creative and me for execution. So, I quitted immediately.
I think that marketing directors are for creativity and strategy. You can't do without a strategy, and you need fun that's why you need creativity.
I get involved in each detail of the services we offer.
I have been with Clinica for three years. For that period, the number of employees increased fivefold. I believe that we'll become a serious player in the private healthcare market if not yet.
CEO and CMO are owners. They have me, marketing director as their 3rd element. We share all the managerial processes among the three of us. Even our buddy avatar is a three-headed dragonette.
I was once said at MIM that everything was marketing and marketing was everything. I am a fan of this approach.
I get deeply involved in all processes and services. For example, I participate in interviewing medical doctors. CFO assesses the financial appetite of candidates, CMO reviews expertise, and I look at whether I can "sell" the doctor to our patients.
In my opinion, healthcare is a product. For example, a person could be a great physician, but unable to speak clearly or be nice with patients. We don't work with such people even if they bring their patients with them because it takes too many resources to sell such a doctor. We look for professionals who will start earning their keep in 2 weeks.
Marketers are not part of recruiting healthcare professionals in other companies. Usually, marketers' part in managerial efforts is limited by taking a picture, doing a profile and uploading all that on the site.
I am also active in floor-planning of our new hospital which is not done routinely. I'm part of that because I was thinking of how to make different office locations the most convenient for our patients.
Even our Cleaning Professionals have their KPI
I don't think that marketing directors need fixed remuneration. I don't think that other employees need fixed remuneration either.
Fixed remuneration doesn't motivate. That's why we don't have fixed motivation in our Clinica.
Physicians from all the prominent private hospitals are trying to join our small and not-so-well-known hospital. Why so? Because our people can manage their income and make more than in other hospitals. Even our cleaning professionals do not have fixed remuneration. They can make more with the help of their KPIs.
It works for me as a manager because our people are becoming very independent. They are all CEOs of their lines of activities. The main disadvantage of such an approach is unpredictable payroll.
My remuneration consists of 2 parts: share of the turnover and share of the net profit.
I'd like to say to all the business owners: make marketing directors more responsible and more power. In that case, they deliver even if they make mistakes.
The new patients' population reduced by 18% after the lockdown.
As far as we know, 19 private hospitals were closed last week. Unfortunately, no business school in the world can prepare you for this.
We are also suffering from the quarantine and crisis. We have 18% fewer new patients. People are mostly addressing us for urgent needs. The vaccination of babies is completely suspended.
People are more nervous, they are asking about every single detail of sanitizing, the number of people on the premises, safety measures in the hospital, etc.
Separating patients with temperature is our main success in internal logistics. We reinforced our safety and disinfection procedures as well. We provided masks, goggles, gloves and safety suits for all our employees.
Some of our physicians refused to work during the lockdown, some work from home.
You can't diagnose the avatar. You need the patient.
Many hospitals including us started online consultations. Such format does not always work, especially with primary patients.
Physicians cannot examine patients online because some small but important detail may skip his or her attention.
It's like examining an avatar or a relative instead of a patient. That may result in wrong diagnosis and treatment. That's why many of our physicians are against primary consultations online. If it comes to the routine consultations, support of the treatment, the online works well. Our patients ask for distant consultations as well.
So far secondary patients help us to survive
I don't want to jump into conclusions as I don't have enough data. The situation may change dramatically in April. So far our current patients help us go through the situation. I am sure that the shorter is a lockdown, the more private hospitals survive. Reducing costs and keeping the turnover going is critical now.